Our SEO services are designed to improve your organic search ranking results. Everything we do has one purpose. Maximize the ROI on your website! 
Where you rank on the search results plays a big part in the value of your website. Your website should be one of your biggest drivers of quality leads. 
SERP rankings rates can play a big part in how many leads and sales you get from your website.
For example: If there are 1000 searches per day for your keyword.
Position 1 would get you 285 visitors
Position 2 would get you 157 visitors
Position 3 would get you 110 visitors
Being in the last position on page one would still get you 25 visitors or potential leads.
According to the Search Engine Journal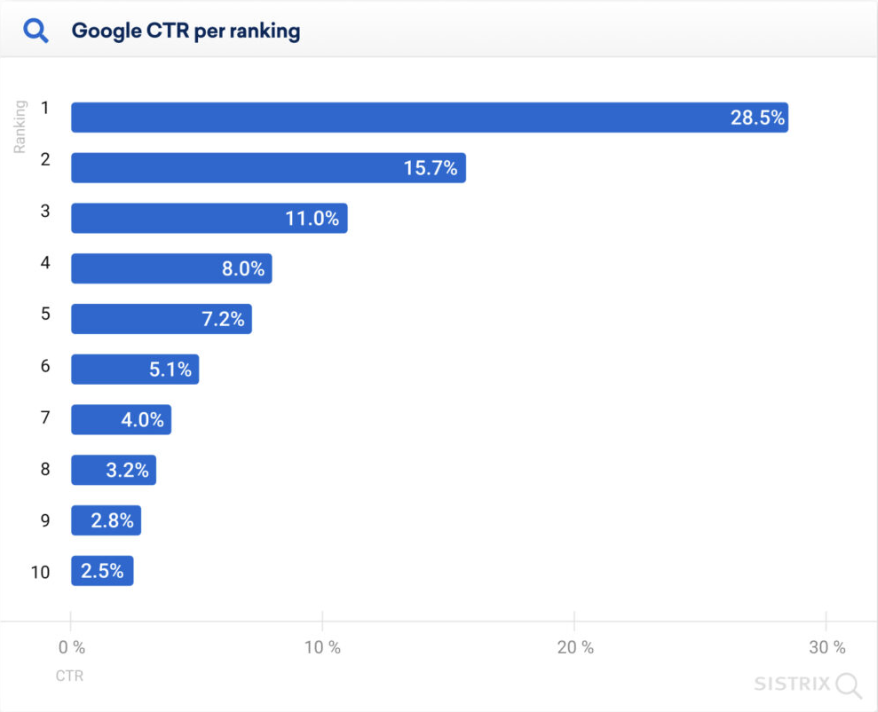 Our in-depth comprehensive audit consists of analyzing these top-ranking factors that we have found to make the biggest difference in your organic SERP results.
With our keyword analysis, we will be looking at the following ranking factors.  
Keywords that you are currently ranking for.
Keywords gap analysis – what keywords should you incorporate into your content that are semantic and similar? 
Keyword density – there is a very specific ratio that google is looking for and rewarding.
Keyword placement – Google wants to see your keywords in specific spots on the page. 
Keyword potential – we will create a list of keywords that are relevant to your product that you should create content around. 
With our content analysis, we will be looking at the following ranking factors.
Satisfying search intent – is your content satisfying the search intent of the keyword?
Word per page – we analyze what is the optimal word count per page that Google is ranking.
Topical authority – Do you have enough content to be considered an authority on the subject?
Content Freshness – does your content need to be updated to make it relevant? 
Internal linking – Is your content linking to relevant internal pages?
Analyze title tags
Analyze meta descriptions 
We will do an in-depth analysis of your SEO competitors.
We will show you: 
Who are your top competitors.
What keywords they are ranking for.
What content they are using.
 What can be done to overtake them in the rankings. 
Our technical audit consists of looking for specific issues that google penalizes a page for.
UX of website.
Speed of website. 
Google Core web values.

LCP (largest Content paint) Measure loading performance. LCP should occur within 2.5 seconds.
FID (first input delay) Measures interactivity. Pages should have an FID of 100 milliseconds or less.
CLS (cumulative layout shift) Measure visual stability. A good user experience should maintain a CLS of 0.1 or less.

Check for broken links.
Look for Robot.txt pages
Identify pages with 301, 302 redirects, and 400 bad requests pages.
Look at your XML sitemaps and make sure they are optimized.
Look at website markup schema.
We don't ask for a long-term monthly contract. Quality SEO work should be done up front and you should not have to pay just waiting for the results. The more work that can be done upfront, the faster you will start seeing results, and the faster your ROI will be. 
Our Guarantee: We have a Guarantee that is almost unheard of in this industry. We Guarantee Results. If you don't see an improvement in rankings, clicks, or sales, from our work, we don't deserve to keep your money. The choice is up to you, we will either refund your money or keep working for FREE until you see the results you deserve. 
Now the only reason we can make this guarantee is because, we are good at what we do. You will get results, the only question is going to be, how big of results?
Because we guarantee our results, we only work with specific clients. Before we do any work and take on a new client, we will do a complimentary audit to verify that we are able to add value to the project and produce results. 
Click on the button below and we will get in touch with you to schedule your complimentary audit.
Frequently asked questions
It all depends on the size of the website. Once we do our preliminary audit we will give you a firm timeline and when you can expect the results to be done.
Once we are done with the audit, and you have made the recommended changes, we can ask Google to recrawl/re-index your website.
Unfortunately, there is no average time frame for seeing results. We have seen results in as little as two weeks and we have seen it take up to six months for there to be a noticeable change in traffic.
Click here for more information from Google on the steps.
That is completely up to you. We can make some of the changes if you prefer or we can recommend some specialists depending on what needs to be done.
A lot of websites have very strict policies in place on who they will allow access to on their website.